Solar Panel Cleaning
I guess that when you are looking to have solar panels installed, pretty much the last thing on your mind is how you are going to them clean. However, it pays for you to consider how you are going to keep your solar panels clean right from the get-go, because this impacts on their efficiency. It is also possible to get automatic cleaning systems for solar panels, and while this will obviously increase your layout costs, it would probable pay to have these fitted at the same time as your panels.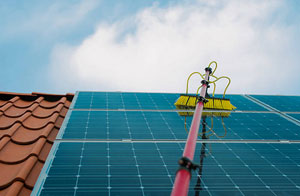 While many people might tell you that solar panels are kept clean by the action of the rain, this is not entirely true. Although they may look clean from the ground, they will have a thin layer of grease and grime that will certainly have an impact on the efficiency of your solar panels. Now, if you don't have an automatic cleaning system fitted (which to be fair, most people don't), you will need to make plans for a regular cleaning schedule. You might be in a position to do this yourself - there are attachments available for pressure washers (such as Karcher). Or you might prefer to make an arrangement with a local solar panel cleaning company, or even a window cleaner (many offer this service).
← ← ← BACK TO MAIN ARTICLE ← ← ←